Document Mgmt. System (DMS)
Document Search:Search and retrieve documents instantly using integrated document search technology.
Document Indexing:Quickly index or tag the documents with metadata for faster and efficient retrieval. In-built full-text indexing of all documents provides real-time, instant results based on the content of files.
Scanning & Capture: Scan your organization's paper records using the completely browser based scanning and capture module.
Access Control: Define access control using ACL Templates. ACL Templates is a smart and easy way to manage permissions.
Version Control: ensures that you always have access to the latest and most updated version of a document.
Document Sharing: Save money and time by simply sharing the document using built-in document sharing capabilities.
Automated Workflow: Workflow automates document-centric processes, improving efficiency and repeatability of operations.
Messaging System: Users can use simple messaging system to send messages to specific user and receive instant responses.
Document Viewer: in-built Document Viewer to view your industry-standard file formats directly in the web browser.
Mark-up & Annotations: View, annotate, highlight, and blackout the content of most of industry-standard document file formats directly from with-in the standard web browser.
Subscriptions & Notifications: Subscribe to Document Classes of interest to receive automatic notification via email in case of any modifications or specified event occurs.
Task Lists: Use the tasks list to assign a task to a member of your team, specify its due date and priority, and indicate its status and progress.
Discussion Boards: provide a forum for conversing about topics that interest your team.
Recycle Bin: Administrators can easily view and restore the documents deleted by any user in a single click.
Detailed Audit Reports: At any time, system administrators can review comprehensive system audit reports containing precise and detailed information about all domain activity and resource usage.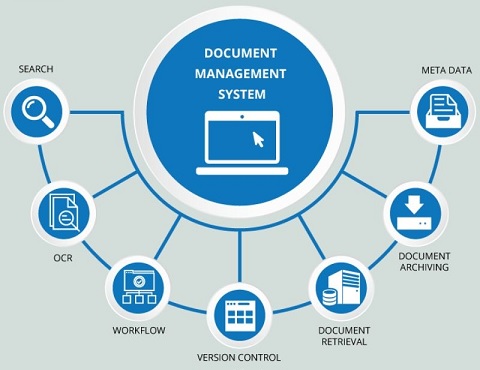 Library Mgmt. Software
Includes functional modules like Acquisition, Cataloguing, Circulation, Article Indexing,
mobile & web based OPAC (Online Public Access Catalogue) , Administration
real time inventory
NCIP 2.0 compliant RFID ready
User configurable access and field display control
Can also manage resources like documents, technical drawings, annual reports etc
Helps in Creation of digital archive
Minimal system administration
Compliance with international standards: MARC21, MARCXML, Z39.50, AACR2, FRBR
School/College & campus Automation Software
web based solution with secured centralized database
provides management with updated information at their fingertips
allows interaction with parents through mobile app
easy user interface helps to adopt with minimal training
self care system with Vernacular language support
allows you to offer eLearning curriculam to students
real time analytical reports
includes modules –

admission process management > fees & revenue management
finance & accounts management > payroll management
student management > attendance management
staff recruitment, appraisal & promotion management
time table management > lesson planning
library management > exam and result management
certificate management > Alerts management
Transport management > Dashboard & reports management
Visitor Mgmt software
Visitor pre-registration & spot registration with adequate information fields
Create visitor database for future use
Pass creation- paper less with RFID card
Visitor self registration through Kiosk, mobile App, Web
Notification via SMS, email
Allows the host to greet visitors in professional manner
Web/mobile based user interface for employees to send visitor request
Generate meeting form with meeting period, location , attendees and visitor departure sign-off
Track Visitor Movement in Real-time & Control Access in Sensitive Areas
Issuing of daily/weekly/monthly pass to frequent visitors like contractor, vendor, supplier, customer, service provider etc
Visitor policy administration for – approval guidelines, multiple entry points & areas of visit
Integration with web camera, pass printer, visiting card scanner, fingerprint scanner & RFID reader
Issuing of asset pass for visitor assets such as laptop, demo equipments & tools
Easy integration with 3rd party access control system
Detailed report for – in campus head count, pass status & validity, blocked visitors, access & movement pattern for granular forensic & security diagnostics
Contract Worker/Labor/ Workforce management Software
Allows managers & contractors to plan and manage their workforce efficiently to improve productivity & reduce labor cost
Worker database, compliance documents upload, biometric enrolment, training & assessment , profile approval and pass creation
Work hour calculation & shift management
Generate work orders and assign to person/group
Save Time and Better Planning of Workers
Enhance Security of the Organization
Monitor work progress & task completion status
KPI (Key Performance Index) evaluation matrix
Accurate and Quick Salary Payments
Web based dashboard & report generation
Job processing & Workflow management
Track Work Hours of a Single Employee or Department
Replace Manual Management of Job through Automatic Solution
Monitor Multi-location Job from a Central Location
Track Project Progress and Cost
Track the Amount of Unit Produced
SMS or E-Mail Notifications to Employer if Target not Achieved
Monitor Real-time-Attendance of Employees with Job View
User/device wise job assignment
Mail & Messaging software
PostMaster Enterprise :
A powerful and intuitive user interface for administrators as well as end-users.
Perimeter screening of malicious and objectionable email through tightly coupled antivirus and anti-spam modules.
A host of features like Bcc Discovery and Mail Screening to prevent information leakage through email.
Single-point management of users across locations, through the Advanced User Management module.
Collaboration mechanisms for your users like Workflow Management, QuickMsg Service and Forums, with support for multiple locations.
A tightly integrated email archiving module with intelligent storage and powerful search and restore.
Apart from the core PME Mail, PostMaster Enterprise has following add-on modules:
Antivirus – perimeter screening of malicious and objectionable content.
Anti-spam – powerful anti-spam screening with a heuristic engine.
Web – single-point internet sharing with powerful filtering and screening capability.
Calendar – personal and group calendars to schedule events and tasks.
Server Expansion – seamless handling of multiple Internet domains.
Archiving – tightly integrated email archiving.
MIS – monitor and analyze email and Internet usage.
Workflow – efficiently manage routine structured interactions.
MailBridge – transparently couple PostMaster with other legacy mailing systems, like Lotus Note.
Mailing List – ability to send personalized mails(with most of content same) to a list of recipients.