The complexity and diversity of equipments & its associated communication & control networks used in factory automation- is the biggest challenge in industry. Industrial networking is witnessing a migration from serial based proprietary protocols to standard ModBus Ethernet.
Industrial Automation & Control
Industrial automation, is the connecting up of factory equipments to improve the efficiency and reliability of process control systems. This in turn leads to lower costs, improved quality, increased flexibility and less environmental impact.
Sensor & Actuator
A transducer is any device that converts one form of energy into another. So, in
the case of a sensor, the transducer converts some physical action into an electrical impulse that can then be interpreted to determine data. A microphone is a sensor that takes vibrational energy (sound waves) and converts it to electrical energy in a useful way for other components in the system to correlate back to the original sound.
Another type of transducer is an actuator. In simple terms, an actuator operates in the reverse direction of a sensor. It takes an electrical input and turns it into physical action. For instance, electric motor, hydraulic system, and pneumatic system are all different types of actuators.
Different types of sensors are – Temperature sensors, Proximity sensors, Vibration sensors, pressure sensor, pH, flow, optical sensor, humidity, ultrasonic, PIR, photoelectric sensors. Sensors are key part of data acquisition and added to industrial equipments with both wired and wireless connectivity technologies. These allow you to detect, measure and process various parameters in the production sites.
A number of different wireless communication technologies can be used to deliver data from the sensor on the equipment, back to a sensor gateway. Industrial wireless sensor networks use short range Bluetooth and Zigbee to long range Wi-Fi, Cellular/GSM, and LoRa WAN technology.
PLC
A programmable logic controller (PLC) is an industrial solid-state computer that monitors inputs and outputs, and makes logic-based decisions for automated processes or machines. It gives the access to control and monitor the array of connected machinery and the software system integrated with it
PLCs work with analog/digital inputs, outputs, a power supply, and external programming devices. PLCs read signals from different input devices such as keyboards, switches, or sensors.
HMI
Human Machine Interface is the touch point between the human and the machine. The supervisors or machinery operators use this as a device to monitor and coordinate the industrial processes in the plant.. It is the interface that shows real-time operational information by integrating the machinery with the software solution.
Industrial IoT & Smart Manufacturing
Humans are striving hard to bring more comfort to their lives. There has been constant research and advancements in providing a greater level of ease to our lifestyle. In contemporary times, the innovation has reached to a level where machines have started replacing humans.
Internet of Things (IoT) has a major role in making this possible. All sectors from home to industries, automation through IoT devices are making remarkable changes in daily processes. Undoubtedly, every smart entrepreneur has the vision to automate the processes of their office to match with the latest technological innovations. IoT in automation industry is proving to be a game changer.
Anything that has a sensor attached to it and can transmit data from one object to another or to people with the help of internet is known as Internet of Things (IoT). IoT devices include wireless sensors, software, actuators, and computer devices. They are attached to a particular object that operates through the internet, enabling the transfer of data among objects or people automatically without human intervention.
The Internet of Things (IoT) helps to create new technologies to solve problems, enhance operations, and increase productivity. The IoT can be explained as the connection of electronic devices using Internet Protocol (IP), cloud computing and web services. IoT based smart control system has advantages such as
Preventive to predictive maintenance
Real time monitoring
Remote diagnostics & control
Up-gradation of existing infrastructure
Wireless sensors where no cables can be installed
IoT allows objects to be sensed and controlled remotely across existing network infrastructure. The major aim is to create friction-less communications and interaction from manufacturing field input/output including analyzers, actuators, robotics etc to enhance flexibility and increased manufacturing. Using IoT, the industrial automation has leveraged commercial technologies in major applications and these examples include PLCs displacing banks of relays.
IoT based devices, sensors, smart machinery and equipments communicate through industry LAN or wireless communication system; will have the ability to make manufacturing processes smart through self-optimization and autonomous decision applying Big Data platform and Cloud Computing.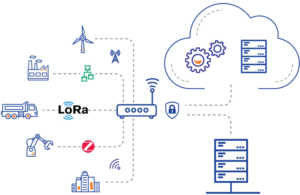 Typically IIoT solutions include:
Internet-enabled devices like PLCs, Human Machine Interfaces (HMI), IP cameras and sensors.
Connectivityto the internet via 4G/cellular, Wi-Fi or ethernet connections.
how Data is collected, stored and processed using edge devices, is central to the value of IIoT.
centralised and secure cloud platform for hosting the data and enabling remote services
Analytics dashboard­– For analysing data and monitoring machines.
IoT Gateway devices act as a communication bridge between IoT Sensor Network and Server. They help to integrate protocols for networking, manage storage & edge analytics on the data, and facilitate data flow securely between edge devices and server.
Industrial Communication & Connectivity
Industrial automation system designed with device, control & information layers – needs an organized hierarchy of various equipments and integrated communication & control platform to function.
Previously, multiple networks carrying information with specific protocols were installed to carry out unique tasks – which led to the increase in cost & complexity. The complexity and diversity of equipments & its associated communication & control networks used in factory automation- is the biggest challenge in industry.
Industrial networking is witnessing a migration from serial based proprietary protocols to standard Ethernet-based protocol. Automation OEMs are including Ethernet & IP connectivity onto their HMIs, controllers, distributed I/O, instruments and sensors for connecting to their control and communication systems. The need for integration of computers, controllers, I/O devices, video & audio system into a single easy-to-manage network has made the path for network centric automation.
Placid partners with leading automation OEM & SI to build the sub-system that requires network integration using various products & technologies.
Cyber security & Firewall
Data acquisition is the process of digitising data from industrial equipment or environments so it can be displayed, analysed and stored in a computer, PLC, server or cloud environment. Data acquisition software/systems for PLCs can be used to collect various types of machine or building information including vibrations, light intensities, temperatures, electrical currents, voltage, sound frequencies and pressure measurements. All data acquisition systems consist of three essential elements:
Sensors
Signal Conditioning
Analog-to-Digital Converters (ADC).
Modern data acquisition systems may include additional features, such as data analysis, reporting software, network connectivity, remote control and live monitoring options like dashboards. You can see the real-time status of the equipment and instruments you're monitoring, or log and analyse data and generate reports. Sometimes the software is equipped with email or alarming features.
With remote access to industrial machines you can remotely troubleshoot and program programmable logic controllers (PLCs), view and control Human Machine Interfaces (HMIs), connect to an IP camera for assistance or support field technicians with specific problems. About 90 percent of operating problems faced by industrial machine builders, original equipment manufacturers (OEMs) and manufacturing companies can be solved by industrial remote access to a machine's control system. This is beneficial to both machine manufacturers and manufacturing companies. For machine manufacturers, troubleshooting machines remotely without going on site drastically reduces support costs and travel time.
After all, machine controllers were never designed for security. Their operating systems are not updated and do not contain the latest security mechanisms. It's imperative that machine controllers are never connected to the company network while linked to other devices.
ICS or SCADA systems are specialized network of computers, controllers and field devices that work in concert to monitor and control key processes involved in the management of machinery, equipment and facilities. Recently more organizations are connecting SCADA network with other networks to – provide remote access for monitoring & maintenance, share operational information, or distribute ordering/billing data resulting in security issues.
ICS/SCADA networks have the complication in managing security issues from
machines themselves. Unexpected broadcast storms generated from out-of-order machines, virus infected industrial PCs can easily compromise the performance of an ICS network. Delays in transmitting data to mission-critical controllers can result in huge financial losses, or even endanger human life. 24×7 operation makes it impossible to deploy a routine patch management through security updates. This renders most ICS/SCADA systems more vulnerable to cyber attacks than standard networks.
A conventional network firewall is not sufficient as it is blind to industrial communications protocols such as DNP3, ICCP and MODBUS. Industrial devices simply respond to any packets they receive and firewall needs to know the contents of a packet to sort safe packets from potentially unsafe packets.
The recently discovered Stuxnet virus, which includes the capability to reprogram PLCs and hide the changes, is the first worm known to specifically target SCADA systems and critical industrial infrastructure. Stuxnet uses a Windows vulnerability as the vector for infection, comprising multiple computers in the network via the host operating system.
In an industrial environment, a wide number of factors influence the choice of the computer for the industrial automation, such as ruggedness, shock, vibration, EMI, temperature, pressure, distance, humidity, exposure to liquid, dust, I/O interfaces and many other variables. An industrial computer is a computing platform that uses industrial grade components and has been ruggedized to function in harsh environment for specific industrial applications. It is designed to use less power, offer greater reliability, expandability and a significantly longer lifespan than commercial systems.
OS & I/O capabilities are very important factors for Industrial computers. They typically run an OS such as Windows 10, Windows IoT, Linux, and sometimes a custom OS. The majority of industrial computers have serial ports (RS232, RS422 and RS485), which they need to interface with legacy equipment. In addition, they may need to support newer I/O expansion slots such as Display Port, multiple displays, USB Type 2.0 and 3.0, general purpose input/output (GPIO), PCI Express and M.2.
Based on the requirement of form factor, mounting options, OS, I/O capabilities and applications – the industrial computers are available as:
Embedded Computer
Embedded computer is a combination of hardware and software that is designated to perform a specific function. The rugged, fanless design with Intel processor can operate at extended temperature and is portable for its light weight.
Suitable model can be suggested based on various I/O connectivity requirements such as dual Ethernet, dual MiniPCIe, USB 3.0, serial ports with RS-232/422/485, two independent displays through Display Port, analog VGA interface etc. The terminal block feature allows the PC to be turned off remotely, thus making it flexible for mounting anywhere in the automation system.
Rack mount PC/server
To avoid Technology obsolescence and to get better protection against cyber attacks and faster remote management for software upgrades/patches, migration to new generation rack mount industrial PC/ server become essential. The following features are the driving factors to choose rack mount PC:
Flexibility to support different motherboards with multiple adapter slots to suit specific application
Support of hot swappable and shock –resistant multiple hard disk with hardware RAID controller
Front accessible, re-useable air filter & fan for easy maintenance & better system reliability
Support of motherboard with dual processors
Support of highly efficient & redundant power supply
LED indicators and audible alarm notification for system fault detection
Built-in Intelligent System Module enabling control and remote manageability
Industrial Panel/ Touch screen PC
Industrial panel PCs allow operators to monitor, control and adjust industrial automation processes. Open frame panel PCs are designed for seamless installation in industrial environments and integration into an existing architecture of a production chain – in control cabinets, machines, kiosks, etc. They are widely used for HMI (Human Machine Interface), as its resistive touch screen and ruggedness ensure easy data access and durability under harsh environments.