The growing demand to create integrated, user-friendly meeting environment with the latest audio, video and data collaboration technology- has encouraged us to offer AV integration that is easy to deploy, operate and maintain.
Digital class Room/ Training room
Keeping pace with the changing nature of educational technology is both a challenge and an opportunity, as more and more schools and colleges realize the increasing importance of modernizing their facilities with digital classroom solutions that bolster their curriculams in appealing and effective ways.
We believe every teacher/ trainer has their unique & personalized
way of delivering the content to their target audience. Instead of automation in teaching system, we focus more in facilitating teacher/trainer to create more impact. With the help of audio visual system & computer functionality, the training session can be made very memorable & effective.
The following technologies and solutions should be considered for use in creating Digital classroom, Training Room are:
Interactive whiteboards or SmartBoards
are being used extensively in the classroom, boardroom and training room to enhance the impact of their presentations. This integrated system offers you a powerful multimedia environment at your fingertips with the help of computer and projector . You can easily share information, save your notes and distribute them after the meeting.
Smart Digital Podium :
Students participate more, when teachers capture their
ideas, questions and feedback in the lesson while maintaining eye contact. Digital Podium facilitates smooth communication of verbal and visual information while adding aesthetic value to the classroom.
Smart digital podium for classroom, conference room and auditorium – allows to deliver multimedia presentation and lecture, enhances two-way interaction, provides extra-ordinary learning experience. It integrates all equipments like laptop with interactive tablet , white board, document visualiser, microphone & sound system with lockable door.
Video Streaming & Distance Learning
As virtual classroom and distance learning continue to surge in popularity, more teachers are required to record their own lectures.
We provide portable device that can easily capture all digital lesson contents from your laptop, with combined voice recording from the integrated microphone to save full lessons and presentations. Recorded content of a corporate meeting or training can be used for reference & distribution with students/colleagues of same or different locations.
Digital signage & Content management
To survive, compete & grow in business – you must move with the times. Digital signage is one of the fastest growing communication media today. This has the potential of delivering value much beyond traditional media like billboards, printed poster and static display.
Digital Signage is a new generation video display system, created to deliver dynamic digital content electronically over network of LCD displays deployed within the same or multiple locations. It helps you to manage & distribute dynamic contents at the right location, at the right time for maximum impact.
Digital signage system is built using Digital Media Software (DMS), signage player and LCD displays with IP network as its transport media. The versatile applications of digital signage are:
improving in-premise customer experience and satisfaction by providing relevant content, news, and information
quick and effective training for new product and service introductions
integration with IP-TV solution provides- combination of video, text, images and live TV across the campus
educational institutes can provide schedules, news, emergency notifications & instructions, recorded video & events around the campus.
digital signage replaces static notice/bulletin boards for communications & reduces clutter, avoids out-of-date communications
ability to change content centrally, remotely, quickly and cost-effectively
digital signage network can be converted into a profit center by displaying sponsored information & commercial advertising
Digital Signage has proven its worth technically and commercially in most industries like education, healthcare, hospitality, banking, transport, retail, corporate office and manufacturing industries. It is highly adaptable and configurable to suit all environments.
Boardroom/conference/Meeting room solution
The decision-making functions carried out within meeting rooms can determine the future of your organization. The Audio Visual technologies form a major part of the environment and the focal point of the meeting. It is crucial therefore that the AV systems
Work reliably – every time.
Are easy and intuitive to operate.
Offer flexibility in function.
Deliver high quality audio & video collaboration
interoperable with existing IT infrastructure for centralised control & management.
Technologies used in a Boardroom solution include:
Video Projection, distribution & Display
Based on the room size, seating arrangement, ambience light etc – requirement of projection screen dimension, brightness(in lumens), through distance are calculated to select the suitable projector. In case of bigger room, using video distribution switch – we install multiple screen/ display for comfortable viewing.
Using Video controller, Video Matrix switch, Video converter, Video extender, Projector, professional LCD/LED display – diverse requirement can be met.
Audio collaboration system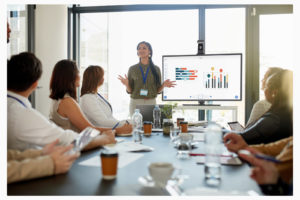 Quality sound makes collaboration more productive. Room size and shape, ambient noise and HVAC (heating, ventilation, air conditioning) are all important factors in the successful implementation of audio conference systems. Composite room construction and interior finish conditions are to be considered for effective acoustic design and noise control.
The use of industry standard Dante-enabled wireless conference system provides the ability to deploy microphones where needed without having to alter the existing architectural infrastructure. This reduces the need for cabling infrastructure and contributes to improved acoustical performance and lower install cost.
The wireless system shall consist of the following components:
Table top Wireless Conference Unit with mic & speaker, Hand held Microphone, audio Digital Signal Processor(DSP), IR Transceiver
Networked Lighting Control (NLC)
Web and mobile app managed Smart lighting system includes LED panel, Dimmer switch and Controller software. PoE & Bluetooth enabled LED panel & Dimmer switch allow you to provide lighting that saves energy, power cabling and helps to monitor and control device status, power usage, brightness & energy statistics through existing LAN/WAN network.
Command/Control Room & Video Wall
Informed decision making is key to the successful handling of an incident. Unified, central command is facilitated by having all the known facts available to the management team to decide upon the course of action.
Our expertise in using technology can greatly improve the flow of accurate information during an incident, enabling you to make informed decisions to resolve the situation. We make comprehensive control room systems that enable access to multiple video , audio and data sources instantly.